Fairtrade and Organic Certified Cotton
It's been more than a decade since we switched to organic cotton in our Australian-made Aztec® backpack canvas, and it was the catalyst for a journey that's ongoing. Today, we're committed to using only organic cotton in our t-shirt and hoody range, which represents more than 95% of our cotton usage.

Why Organic cotton?
Organic cotton is sustainably grown from non-genetically modified plants using methods and materials that have a much lower impact on the environment than traditional cotton production.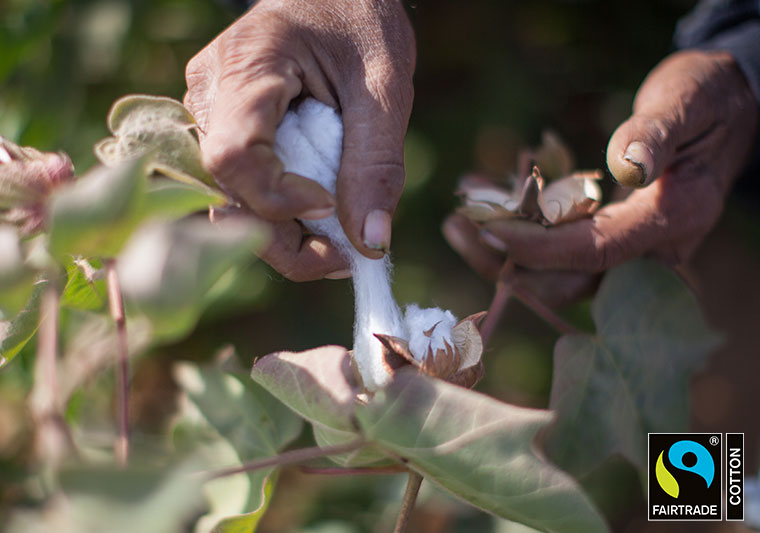 Partnering with Fairtrade
Cotton is the most important crop in the global textile industry, yet an estimated 100 million rural households who produce it are living in poverty. Fairtrade is a third-party certified, alternative approach to trade. Fundamentally, Fairtrade is all about supporting the growers, ensuring they're guaranteed a minimum price for what they farm, and helping them establish financial security. Fairtrade is a powerful force for change and we're proud to support it.

Whenever you see the Fairtrade and Organic Cotton logos, it's like a "good stuff only" stamp.

Fairtrade is part of our sustainability journey
- Our manufacturing Trade Partner has achieved 'carbon neutrality' under the United Nations Climate Neutral Now programme, and been awarded the 'Carbon Neutral Gold Standard' by One Carbon World.
- Both of our Yarn Spinning Trade Partners are certified to the Oeko-Tex Standard 100® for responsible chemicals management, and one of them reports annually to the Sustainable Apparel Coalition's Higg Index® on their environmental and social impact.
- From 2020, Macpac's Fairtrade organic cotton range will also be shipped with landfill biodegradable polybags that have 30% recycled content.
- As part of our commitment to driving transparency in the cotton supply chain, we are signatories to the Responsible Sourcing Network's (RSN) Uzbekistan and Turkmenistan Cotton Pledges to end slavery. Our Responsible Sourcing Code prohibits sourcing from Uzbekistan, Turkmenistan and the Xinjiang region of China.
Find out more about fairtrade at fairtradeanz.org/for-consumers/products/cotton