We all love our Weber, but this versatile BBQ is good for so much more than grilling a couple of snags. There are so many things that you can cook on a Weber – especially when you put the lid down. Cooking with the lid closed creates natural convection of the air inside the barbecue. This results in more even cooking with more natural juices retained. On top of that, you'll achieve outstanding barbecue flavour that you just can't get by cooking with the lid open. Here are a few Weber recipe ideas to try at home or next time you take the barbie on the road.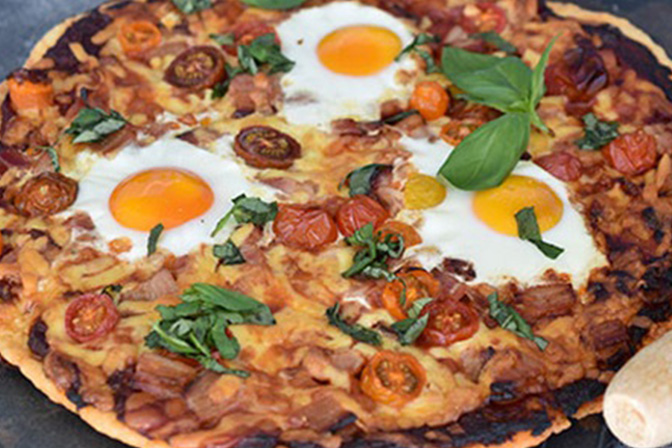 Ned Kelly Breakfast Pizza | The Log Book
NED KELLY BREAKFAST PIZZA
First up, make your base by mixing bread flour, yeast and lukewarm water together. After kneading for 10 minutes, place in a lightly oiled bowl, cover with plastic wrap and allow to rest for at least 30 minutes, or until doubled in size.
While waiting for the dough to be ready, preheat a large Weber pizza stone in the BBQ for 20 minutes.
Top your base with the pizza sauce, bacon, baked beans, cherry tomatoes and cheese. Using the back of a spoon make 3 indentations into the toppings of each pizza, creating a space to crack the eggs into, then cook until the edges are a little crispy. Voila, you have the perfect breakfast pizza!
VIETNAMESE BAKED SNAPPER AND COCONUT RICE
Prepare the barbecue for indirect cooking over medium heat (190°C to 230°C). If using a Weber Q barbecue, set up your barbecue with a convection tray and a trivet.
Cut 3 or 4 diagonal slashes along each side of the snapper, approximately 1cm deep and 2.5cm apart.
In a bowl combine light soy sauce, lemon grass, chili, ginger, lime juice and coriander. Reserve any fresh ingredient off cuts for the cavity of the fish.
Lay the fish onto 3 layers of foil. Fold up the sides of the foil to create a 'boat' for the snapper.
Rub the herb mixture onto both sides of the fish, into the incisions and place the remaining into the cavity along with any of the fresh ingredient off cuts. Lay fresh lime slices over the fish.
Roast the snapper over indirect medium heat for 25 to 35 minutes or until cooked through.
Whilst the fish is cooking, make the coconut rice. Place rice, water, coconut cream and ginger in a large casserole dish (with lid on- vent open) and bring to the boil over direct high heat, stirring as required. Reduce heat to a simmer and gently simmer for 15 to 20 minutes.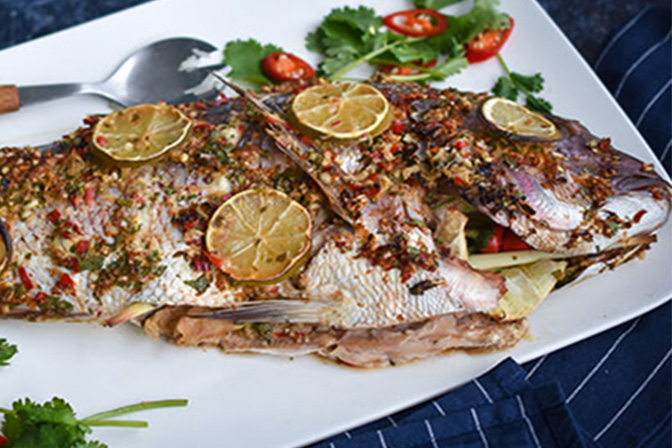 Vietnames Baked Snapper and Coconut Rice | The Log Book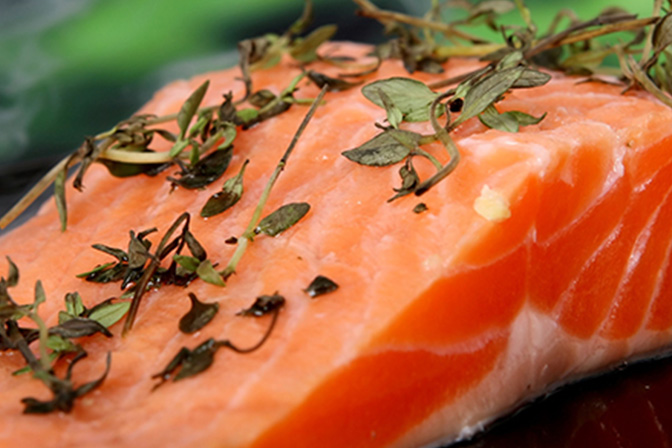 Smoked Salmon | The Log Book
SAUSAGE ROLLS
Think you need an oven to cook this Aussie staple? Think again!
Firstly, set up your barbecue with a convection tray and a trivet.
Simply prepare your mixture and roll up into puff pastry (store bought is just fine), brush with egg and sprinkle sesame seeds on for that gourmet touch and you are ready to go.
Place the prepared rolls onto baking trays and then cook them over indirect medium heat for 30-40 minutes.
SMOKED SALMON
Imagine serving this gourmet dish up at your campsite!
Set up your Weber Q for indirect cooking with a convection tray and trivet. Place some pre-soaked wood chips in the Weber Q Smoker Boxes, place the lids on and set the boxes at the front and back, either side of the convection tray and trivet.
Lightly oil some salmon fillets, cherry tomatoes and garlic, season with pepper and a little salt.
Once the barbecue has preheated for approximately 25 minutes and the smoker boxes have started to smoke, adjust the burner(s) to the roasting setting. Place some lemon slices on the trivet to create a base for the salmon fillets. Place the salmon on top of the lemon slices. Place the tomatoes and garlic on the trivet.
Close the lid and roast for 15 minutes or until the salmon is cooked to your liking.
PULLED PORK
If you have a little more time up your sleeve, why not prep some juicy pulled pork?
Step 1: Set up your barbecue for indirect cooking with a Convection Tray and Trivet.
Make a spice rub of your liking – this can include paprika, salt, garlic powder and cayenne pepper if you like it spicy. Rub this all over both sides of a pork scotch (around 1.5kg) cover and chill for about half an hour.
Preheat the barbecue on the lowest setting and then place the pork on top of the trivet and cook (lid down) for about three hours.
After three hours cooking, place the pork into a large drip pan, pour apple cider vinegar on top and cover tightly with aluminium foil and cook for further 90 minutes.
Take the pork off the barbecue and leave to rest for 45 minutes. During this time you can whip up some BBQ sauce to go with the meat.
To serve, use two forks to separate the pork and mix the sauce through. We dare you not to taste test.
And there you have it! Why not pick out your favourite Weber recipe and try it on your friends or family tonight? Get cooking!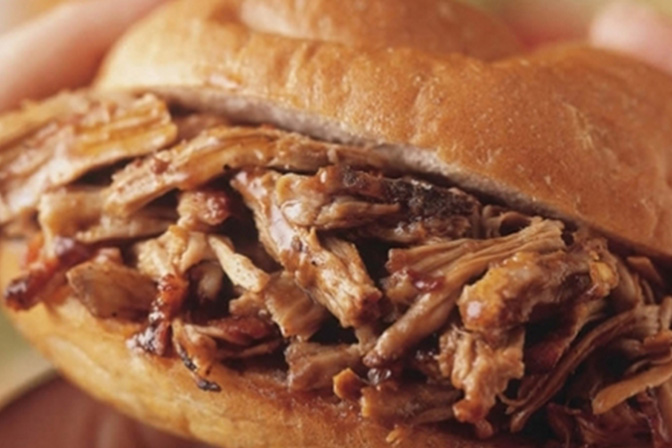 Pulled Pork | The Log Book