Afterpay - Shop now. Pay it in 4. Always interest-free.
With Afterpay you can shop for your items online or in-store, receive them now, and pay for them over time in four equal fortnightly payments.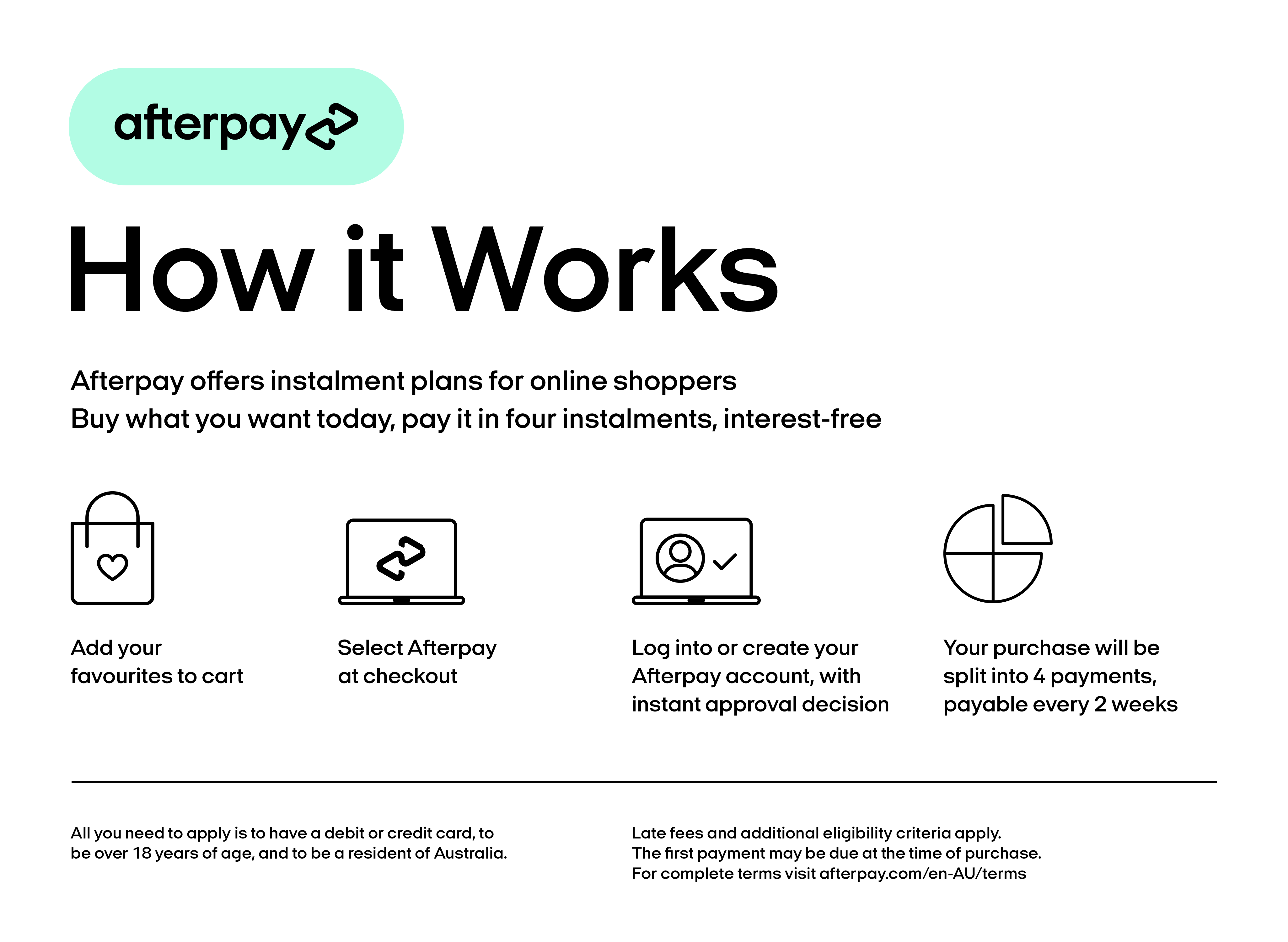 Afterpay FAQs
What is Afterpay?
Afterpay is a reusable account that lets you shop now and pay later. Pay your purchase in four payments, every two weeks. Always interest-free.
What are the requirements?
Be a resident of the country offering Afterpay.
Be over 18 years of age.
Have a debit card or credit card.
Not spend more than $3,000 in any one transaction in a Macpac store or webstore.
How do I use Afterpay online?
1. Add your items to your bag and proceed to checkout.
2. Select Afterpay as your payment method.
3. Log into or create your Afterpay account to complete purchase.
4. Your products will be shipped and you will receive a payment schedule from Afterpay.
How do I use Afterpay in-store?
1. Select your items.
2. Ensure you have the Afterpay app downloaded on your phone.
3. Let the Macpac team know you'll be using Afterpay.
4. Scan the barcode in your app at the checkout.
5. Take your items home.
How do repayments work?
Afterpay allows you to pay for your purchase over 4 payments due every two weeks. In some cases, Afterpay may require you to make a payment at the time of purchase.
Your payment schedule will be emailed to you by Afterpay.
Late Payment fees can be charged by Afterpay.
How are returns & refunds processed?
If your item meets Macpac's returns policy, the purchase amount will be credited back to your Afterpay account.
Items purchased online using Afterpay, can either be returned via post to our webstore or at your nearest Macpac store.

Upon return of your item, we will only process a refund for the items returned, and you will need to re-purchase via our website or in-store for alternative items.
Please note
Afterpay cannot be used to purchase Gift Cards.
For full terms and conditions please refer to Afterpay's full terms and conditions