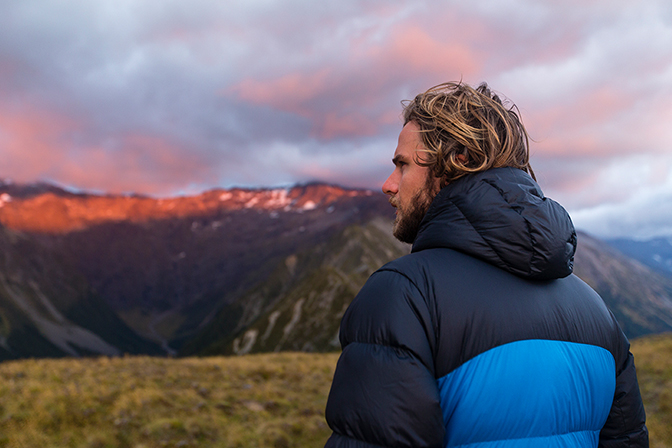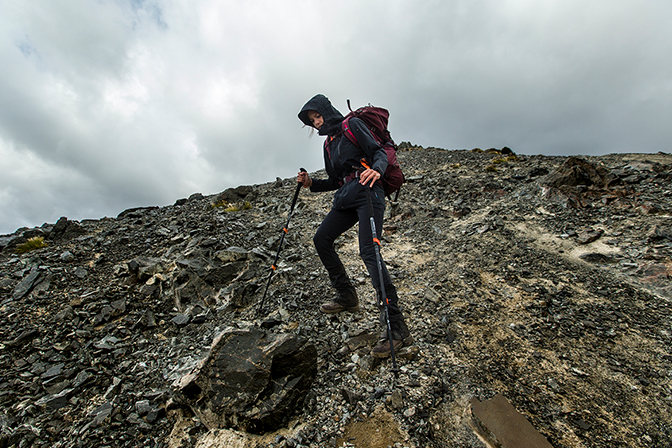 The Lake Ohau Backcountry is beautiful and secluded, tucked in behind one of the South Island's best loved ski destinations. The area offers breathtaking landscapes, from quiet beech forests to grandiose alpine vistas. The North & South Temple Valleys are a fabulous weekend getaway option for trampers of all experience levels and abilities. Below, you'll find some recommendations to get you started. We suggest doing as much research as possible before tackling a new track. Alternatively, book in with a tour company to make sure that you make the most of your adventure, and make it home in one piece.
Track name: North Temple Valley Track
Experience level: Low
Duration: ½ Day return walk – 5 hours
The North Temple Valley is perfect for family day trips, novice hikers or even just a nice trail run, and is a really accessible part of the Ohau backcountry. The track starts at the picnic area just off the Lake Ohau Road. It's well defined, offering a gradual climb through native beech forests, with an abundance of large crown ferns and a few small creek crossings. When you reach the head of the valley, you'll be treated to an impressive cirque, which is a stunning spot. It's always reminded us of the dramatic Fiordland Wilderness in certain places. Majestic rock faces and towering waterfalls plunge into the cirque. It's scale will make you feel very small, and it's an amazing spot to stop for lunch. If you're feeling even more adventurous, set up camp and embrace the serenity overnight!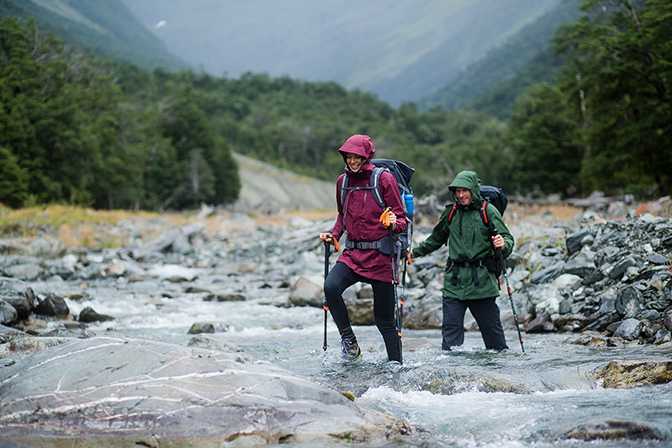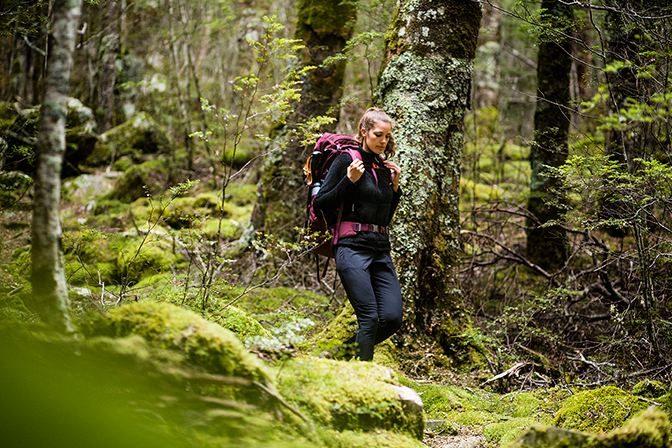 Track name: Hopkins Valley to Brodrick Pass
Experience level: Medium
Duration: 2 days
For the tramper with a little more experience under their belt, the journey up Hopkins Valley to Brodrick Pass is a beauty. You can stay overnight in Brodrick Hut, which is the perfect jumping off point for some fabulous adventures in the area. There's a wide variety of landscapes on offer, from open river flats and gentle beech forest to rocky, snow-covered mountain tops. You can walk, mountain bike or 4WD from Ram Hill to Monument hut, which is where the track begins. Walk up the Huxley Valley to Huxley Forks Hut. The track winds through the valley for 9km all the way to the hut. Once at Huxley Forks Hut it's a three hour tramp over 4.5kms to Brodrick Hut. A steep climb up to Brodrick Pass takes about three hours over 2.5km's, where you're treated to views over Mt. Mackenzie and unforgettable panoramas over the large peaks of the Landsborough Wilderness area. Brodrick Pass is situated on the Main Divide and leads from the Hopkins/Huxley watershed into the less accessible Landsborough Wilderness Area, which is a mecca for trampers and hunters. From here, you can opt to spend night number two in Brodrick Pass Hut again, or return down the Huxley and stay at Huxley Forks hut for a shorter trip back to civilisation.
Track name: North & South Temple Valleys via Gunsight Pass
Experience level: High
Duration: 2 + days
This tramp takes in the best of both valleys, with a high alpine pass to join the two. It's an awesome weekend circuit and we recommend bringing a tent as there are great secluded camping spots along the way. This route offers breathtaking Fiordland-esque cirques, high alpine scrub, scree slopes and snow covered peaks. It's a nice easy tramp to start with, leading to a more adventurous scramble into Gunsight Pass, before descending into more backcountry beauty where some idyllic wild camping awaits you.
The track starts at the picnic area of the North Temple Valley (NTV). Hike into the NTV where you can then gain access to Gunsight Pass, which sits above you. It may seem out of reach surrounded by the grand cirque, but tucked away to the south is a long narrow scree slope leading up to an obvious col between two craggy peaks. This is the route over Gunsight Pass and should only be attempted in the summer months. Once you reach the top you'll be sitting at around 1890m, where you'll be treated to beautiful views over both North & South Temple Valleys, and the surrounding Belfry and Bruce peaks. The descent down into the South Temple Valley is a gentler grade of scree-bashing, before transitioning to larger boulders, and eventually an easy tramp once in the valley. A trail weaves through high alpine scrub, arriving at a well defined track by the stream. Once back in the beech forests a good track flows out to the car park, with an array of campsites along the way.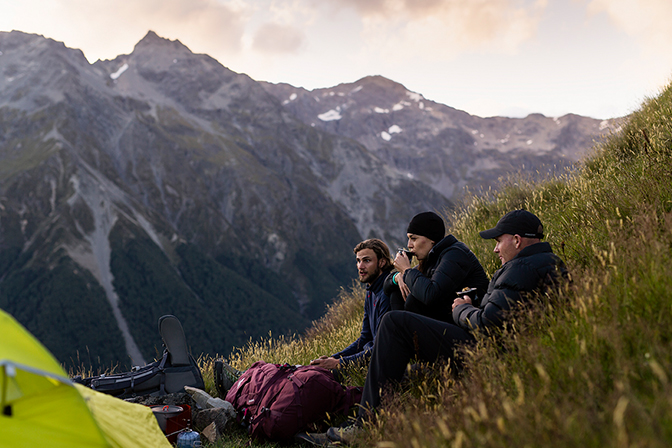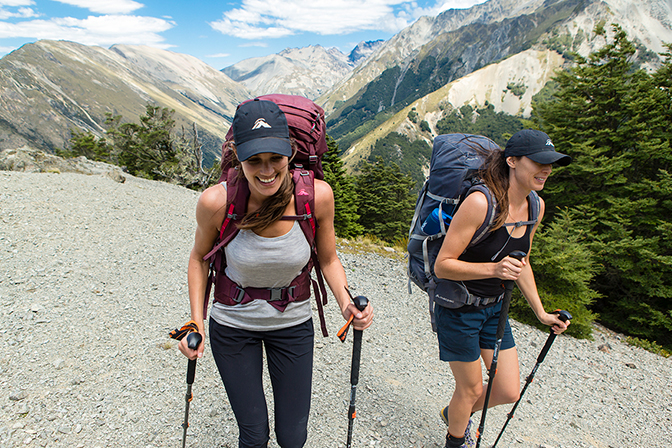 Yoho Adventure's Gear Essentials for the Ohau Backcountry
Cristina & Ben have spent years in both the Canadian and Kiwi wilderness, so they know better than most that good gear can be the difference between a great experience and serious misadventure. Here's their top 4 wilderness adventure essentials:
A tramping pack becomes an extension of your body when you spend a lot of time outside. Tramping packs offer extra support, and are more robust, meaning they'll go the distance and last a long time. The Cascade 75 V2 is a workhorse that has been engineered for both comfort and durability. It's an ideal choice for multi-day adventures.
Warmth is key, especially when you're tramping in an area that is known for its unpredictable weather (we're looking at you, New Zealand). A windproof softshell is so important when you're in exposed areas. The Sabre goes a long way to beating the chill, and has plenty of pocket space to store your bits and pieces.
Macpac Uber Light Down Hooded Jacket:
The Uber Light Down jacket is an ideal mid layer in really cold conditions, but works perfectly as an outer layer in cool conditions, too. Having a warm down jacket is such a difference maker, especially when you set up camp for the evening, or arrive at your hut. Added bonus: the Uber packs down into a super lightweight, compact stuff sack, so it hardly takes up any room in your pack.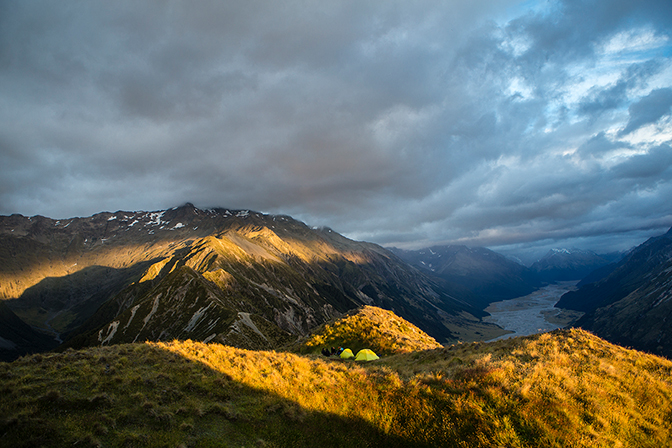 Golden Hour, Hopkins Valley | The Log Book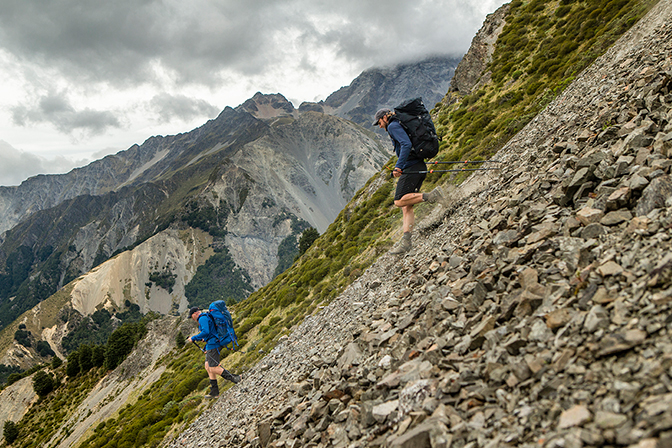 Scree bashing, Ram Hill | The Log Book
Macpac Epic 600 Sleeping Bag:
A sleeping bag can be a frustrating inclusion in the pack. Obviously it's a necessity, but it takes up so much room! Not the Epic. This little beauty has joined us on every one of our adventures for years. It's incredibly warm and comfortable, super compact, and has never failed us when the temperatures plummet.
If you're looking to spend a few days in the region, there's plenty of great accommodation options. During the Macpac Autumn 18 photo shoot, we stayed at the Lake Ohau Quarters, which is the perfect jumping off point to access these Ohau backcountry gems.
Of course, we strongly suggest that you do not tackle tracks that are beyond your experience level.
If your looking to experience an inspiring wilderness adventure check out Yoho Adventures British Columbia and South Island Trips