How to choose hiking boots
When they fit correctly, hiking boots might be your best friend when you're making the most of the outdoors. Because where you can put up with a heavy pack and sweaty clothes from time to time, it's impossible to carry on when your feet won't let you.
Choosing the right footwear comes down to a few things, but it's by no means difficult. We're going to cover everything from the options you have to the things you should be looking for when you're scoping the web or heading in store.
But first things first:
How do I know I need hiking boots?
Whether you need a pair of sturdy multi-day hikers or a pair of ultralight trail runners depends on the level you're at and the places you're heading. Sturdy boots that come up above the ankle aren't always the go-to option. In fact, sometimes they're the last thing you want.
Here are your three main types of shoe:
Hiking boots
Mid and high-cut hiking boots are your best bet when you're heading into technical terrain with heavier loads. These are your multi-day backcountry workhorses. They're built with generous support around your ankle and above your heel to alleviate the stress that comes with carrying everything you need to survive in the wild. Some come with deep, thick lugs that provide more grip, while others are spaced to shed mud more easily. However, these features — plus a stiffer sole — inevitably increase weight and break-in time.
You also have the option of synthetic or full-grain leather outers, and waterproof linings. Waterproofness is a must in New Zealand's temperate conditions and in some parts of Australia. But whether you opt for one outer over the other will depend on a combination of what you want to spend and how much you're going to care for your gear. As a rule of thumb, synthetic outers break in easier. But when it's cared for properly, full grain leather can last much longer.
For more serious adventures across alpine terrain, you may want to consider even stiffer mountaineering boots with crampon-compatible soles.
Our picks: Scarpa's Kailash Trek (men's) and Terra (unisex) Gore-Tex Boots.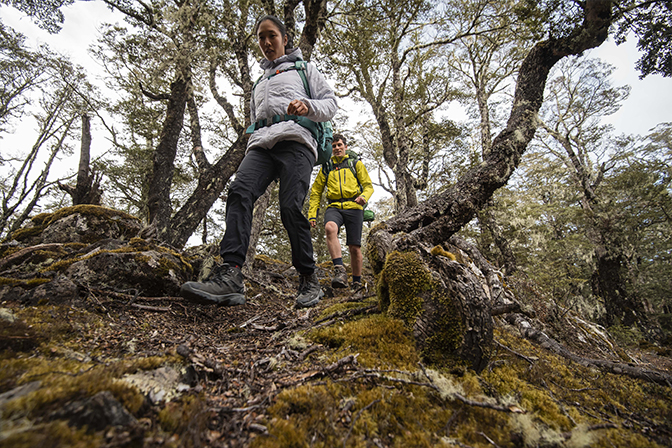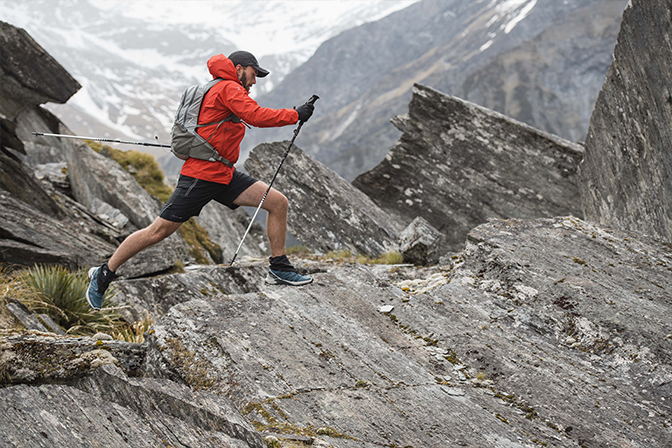 Hiking Shoes
Stiffer in the sole with a slightly higher heel, hiking shoes are ideal on day walks, maintained trails and some Great Walks. Many brands make mid and low cut options depending on the level of ankle support you need — a key feature you should be looking for if carrying heavier loads is on the cards. Generally, the stiffness of their soles sits between that of a trail runner and a hiking boot. And because they're lighter than fully-fledged boots, they don't require as much break-in time.
Our picks: Men's Keen Targhee EXP WP Hiking Shoes and Women's Keen Terradora II Low WP Hiking Shoes.
Trail runners
Compared to traditional running shoes, trail runners offer a little more heel support and deeper lugs (bumps that provide traction) to ensure you can move quickly over uneven terrain without slipping. Being the lightest of your options, they're generally the most flexible too. That's great if you're not carrying much and don't require a stiff sole, but it's not ideal if you're heading out with a large, heavy pack for hours on end.
For example, some ultralight backpackers swear by the versatility of lower cut shoes, and trail runners dry much faster after river crossings than hiking boots. On the flipside, if you require more ankle support and are carrying a pack larger than 50L, you should consider sturdier footwear.
- Our pick: Salomon Supercross Blast Trail Running Shoes (men's and women's)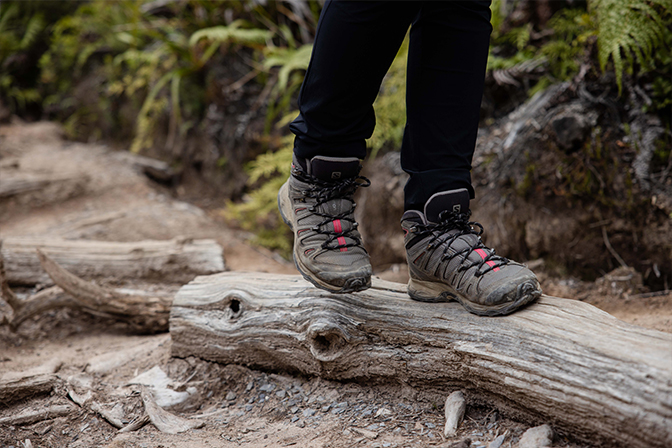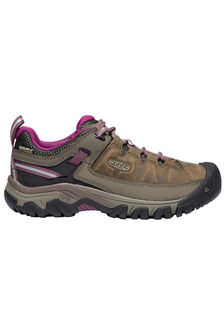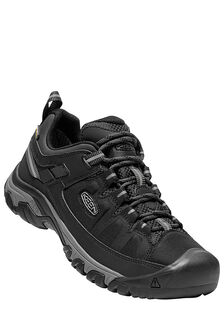 How to fit hiking boots
Regardless of where you choose to shop, we always recommend trying on shoes in store. Many brands have slight intricacies that differentiate them — even if the sizes are the same. One brand's 10 might have a slightly higher arch or a little less support than another's. And the easiest way to understand these differences is to slip on a pair in some decent hiking socks.
Whether they're boots, shoes or runners: your footwear should fit snug — not tight — around your heels, with enough room in the toe box to wiggle your toes. Heel lift is the last thing you want because it compromises the support your ankles could be getting. That constant rubbing is also the number one way to form a blister.
PRO TIP: Trying boots on as close to the end of the day as possible is one of the easiest ways to recreate how your feet will feel after a hike. That's because walking around in shoes causes your feet to swell, and your feet are usually a touch smaller first thing in the morning.
How to tell if they're too big
You can tell if hiking boots are too big by sticking your finger down the back of the heel while they're on. If you can easily touch the sole of the boot, wiggle your finger, or fit more than one down there — you should definitely try the next size down.
When it comes to shoes and runners, walk around and make sure they aren't slipping at all. Better yet, a quick jog around the shop should tell you what you need to know.
How to lace hiking boots
Shoes are a little more self-explanatory, and a number of new trail runners come with bungee-style laces, so we're focusing on boots here.
The loops on either side of them are designed so you can cross the laces as you would on any other shoe, but you can also use them to create specific knots that lock your heel further, provide relief from toe pain, and skip areas that might be prone to getting sore. There are plenty you can find online, but here's a simple one that's great to keep your heel from slipping.
The surgeon's knot
Start by pulling the slack from your laces to hold them snug over the top of your foot.
Find the two pairs of lace hooks closest to where your foot flexes forward by lifting your heel with your toes on the ground.
Tie two individual surgeon's knots at each pair of hooks by wrapping your laces around each other twice and pulling them tight. After each knot, run the laces directly through the next loop to lock the tension in.
After tying both knots, finish lacing as you normally would.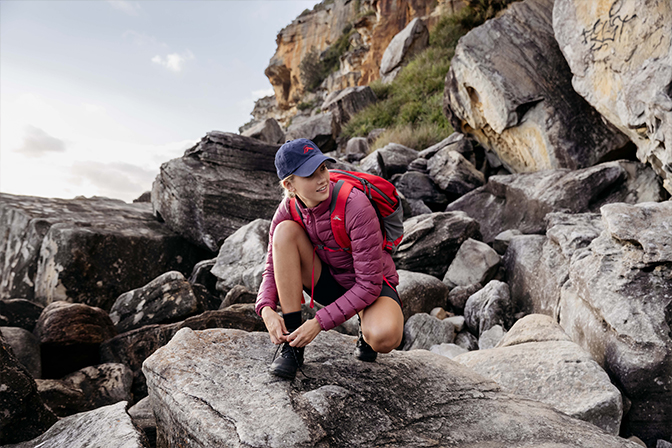 Where to buy hiking boots
Macpac stock a range of Scarpa, Keen and Salomon footwear that are ideal for all kinds of adventures. And whether you choose to head into one of our stores or not, we always recommend trying boots on wherever possible. They're a decent investment — and there isn't much you can do about an ill-fitting pair.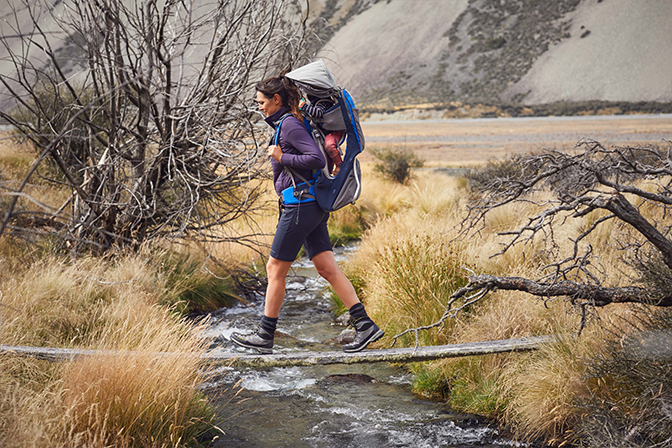 TL;DR on boots
If you're already heading out on your local trails, take a look at the styles other people wear and consider whether your current footwear is up to scratch or not. If you're going on overnight adventures in low cut runners and are keen to get into multi day hikes, you'll need sturdier boots with enough rubber to support you and your gear. However, if you're only just getting out there, something lighter and more flexible can be perfect on plenty of the maintained trails in Australia and New Zealand.