How to Choose Your Sleeping Bag
The importance of a good night's sleep in the outdoors can't be overstated — and your sleeping bag is critical to this. But whether you're looking for your first sleeping bag, or upgrading your current model, it can be daunting. There's a lot to consider. This guide will help you understand everything you need to know about choosing the perfect sleeping bag for you and your intended activity.
Start by considering these factors
1. What temperature rating should you choose?
A sleeping bag's temperature rating identifies the ranges at which a bag is designed to keep an "average sleeper" warm. This will give you a general idea about a sleeping bag's performance and is useful for comparing bags. You will notice our sleeping bags have three ratings on them.
- Comfort: the temperature at which the average female (or cold sleeper) can expect to sleep comfortably.
- Limit: the temperature at which the average man (or warm sleeper), will not feel cold.
- Extreme: the temperature at which the average woman will be at risk of hypothermia. This is a 'survival only' rating.
In short, you want to select a sleeping bag with a comfort temperature rating that's lower than the lowest temperature you expect to encounter.
It's important to note sleeping bag temperatures are not a guarantee of warmth and shouldn't be considered in isolation. In reality, several factors can determine how cold or warm you feel during use, such as your sleep system (sleeping mats, liners etc.), conditions on the day, your energy levels, the clothing you're wearing when sleeping and even your food intake throughout the day.
Did you know: At Macpac we advertise our bags based on comfort temperature as the lowest temperature you can take a bag out in. Macpac adult sleeping bags are tested to the ISO 23537-1 international standard and temperatures are in degrees Celsius (°C). Our kids' sleeping bags have been tested to the international ASTMF1720 standard. This test takes into account that metabolic heat production decreases with age. This is why temperature ratings on our kids' sleeping bags get smaller as they grow older.
2. What type of insulation should you choose?
Synthetic insulation
Synthetic bags offer solid performance at an affordable price. Macpac's new synthetic sleeping bags are filled with recycled polyester.
Pros:
Will continue to insulate in damp conditions
Can be a good choice if you have allergies to down.
Easy to care for and wash
Cons:
Typically heavier/not as compressible as down options.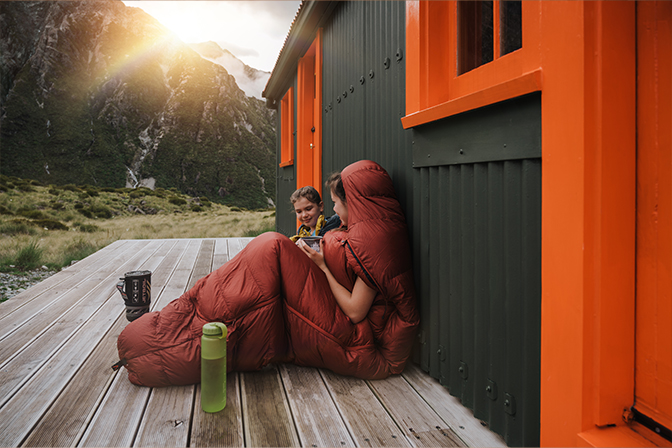 Down insulation
Down sleeping bags are filled with duck or goose down. At Macpac we only use down that is ethically sourced (certified by the Responsible Down Standard). Down sleeping bags are typically more expensive than their synthetic counterparts, but down's warmth-to-weight ratio is better than any synthetic fill.
Pros:
Great warmth to weight ratio
Highly compressible
Water resistant HyperDRY™ down can help protect the sleeping bag in damp conditions
Cons:
Don't perform as well as synthetic bags when wet
Generally more expensive than synthetic bags
Requires more care than synthetic bags (see how to wash your sleeping bag for more)
3. What's your budget?
Sleeping bags can vary greatly in price. The warmest, lightest sleeping bag is likely going to be the most expensive. And it may not be what you need. At Macpac, we have more affordable options, like the Dusk 400 or Roam sleeping bag range, which are perfect when you're just starting out.
4. What activity are you doing?
It helps to identify the main activity you will be using the sleeping bag for, as different activities may have very different requirements.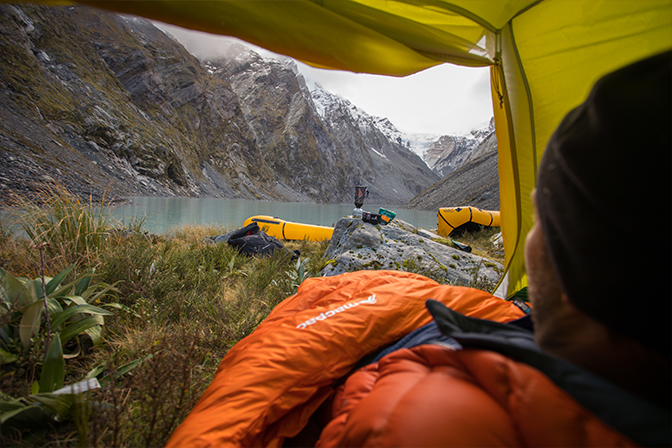 Camping
Sleeping bags that are well suited to camping and road trips are designed around comfort. Weight or packability is generally less of a priority, since you're likely to be heading to your destination by car. Synthetic bags are a great option here as they are easy to care for, and more affordable than their down counterparts.
Our Pick: Check out our synthetic sleeping bag options, the Roam or Aspire range, or down sleeping bags like the Dusk 400 or Escapade range.
Lightweight trips (like thru-hiking or bikepacking)
If your priority is to move light and cover ground, you probably don't want to be weighed down by your sleeping bag. Look for sleeping bags that minimise weight and maximise compressibility.
Our Pick: The Dragonfly range (200 and 400) or the ultralight Firefly 200. These bags have been rigorously tested by our ambassadors, including members of the New Zealand Alpine Team, where minimising weight is always a goal.
Hiking
In general, sleeping bags designed for hiking tend to be lightweight and packable, with more warmth for the weight. If you're looking for a versatile option, it's possible to pair a 3-season sleeping bag with other additions to improve its temperature rating, e.g. a liner and extra clothing layers.
Our Pick: Dragonfly range (400 and 600) and the Azure (500 and 700).
Alpine trips
For alpine trips you need a sleeping bag that provides excellent insulation in cold environments.
Our Pick: The Serac 1000, our flagship alpine sleeping bag. It features 1000g of 800 loft HyperDRY™ goose down to provide high-quality, water-resistant warmth. Perfect for camping above the snowline.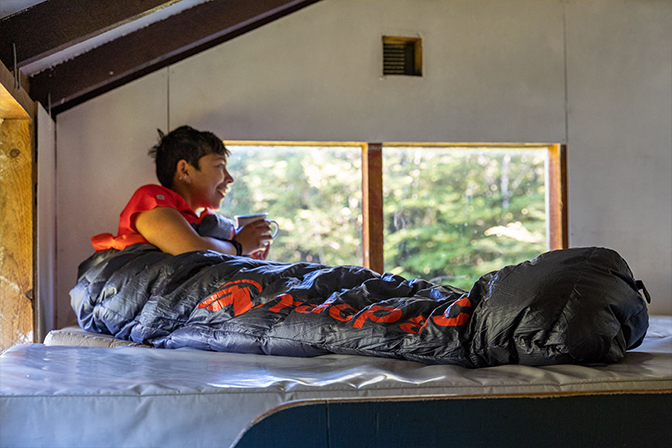 5. What sleeping bag shape should you choose?
Sleeping bag shapes
Temperature ratings aside, size and shape are key to finding the right sleeping bag. Our sleeping bags are designed to be taller than the person using them, because insulation tends to pull in slightly, and extra space is required to generate warmth. A tight-fitting sleeping bag is not a warm sleeping bag, and we've accounted for the extra room it takes to generate optimal warmth.
Rectangular
These bags are wide at the shoulders with relatively square footboxes. They're perfect for travel and car camping because they can be opened out into quilts. The roomier shape allows you to roll around more naturally like sleeping at home. Bonus: All Macpac rectangular sleeping bags can zip together to form a large quilt.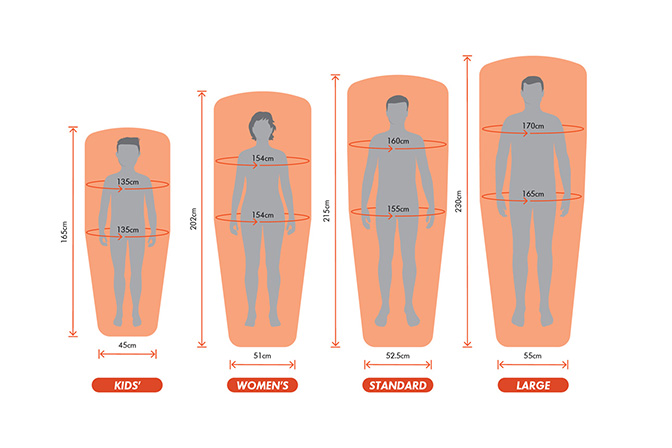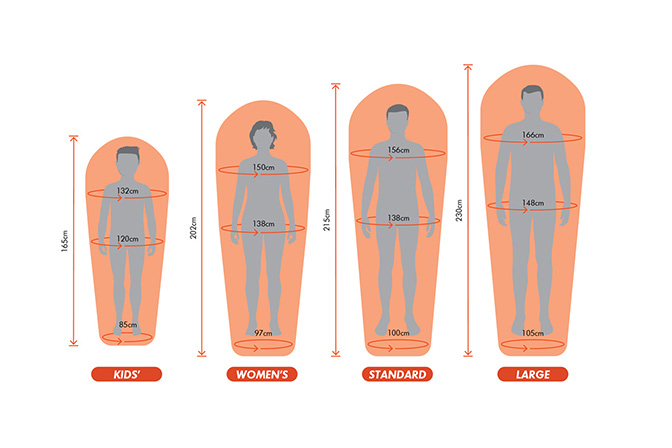 Relaxed Mummy
Narrower at the shoulders and hips, relaxed mummy bags taper towards the footbox for a more technical fit that still lets you move around. Ideal for most hikers. Bonus: All Macpac relaxed mummy sleeping bags can be zipped together.
Mummy
Narrower at the shoulders and hips, this technical fit provides the best warmth-to-weight ratios for serious adventurers. At Macpac we reserve this shape for the lightweight Firefly 200, alpine-ready Serac 1000, and minimalist Dragonfly range.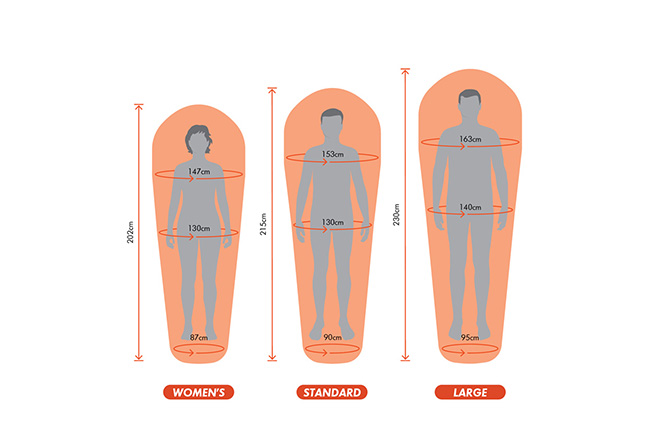 When you head to the Macpac website and search for sleeping bags, it's easy to filter the sleeping bags by shape.
Sleeping bag sizes
Kids
Kids' sleeping bags are designed to be comfortable for children , and ideal for family camping in moderate temperatures. They have a handy 'Grow with me' system so you can shorten the bag for smaller kids.
Standard
This is your 'regular' or average size sleeping bag.
Women's specific
Women's specific sleeping bags are narrower at the shoulders and shorter in length, but with the same amount of fill as standard sizes. The 'extra' down is redistributed differently across the top and footbox to provide greater warmth and cater to women's physiologies.
Large
Large sleeping bags are longer and wider across the top to fit taller, broader frames better.
6. Packed size
You want to make sure your sleeping bag can easily fit inside whatever pack you're carrying, so this is where it's packed size comes into play. Apart from the sleeping bag's individual measurements, you can also use a compression sack to help further compress your bag and provide extra waterproof protection.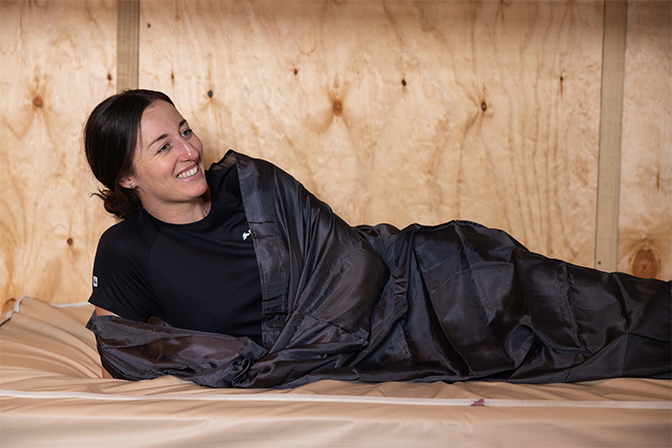 7. Weight
When diving into the specs of a sleeping bag, note the total sleeping bag weight. This is what matters when you're carrying a bag in your pack. The type of insulation and overall shape have the greatest impact on total weight, so bear this in mind when comparing temperature ratings with other specifications. As a rule, down is a more efficient insulator — and it will deliver greater warmth than synthetic fill for less weight— but for a higher price. In general, our advice is to go as light as your budget allows.
8. Other considerations
Sleeping bag liners offer an extra layer of warmth when paired with your sleeping bag and will help keep your bag clean during use, ultimately extending its life. Check out Macpac's sleeping bag liners here.
Sleeping mats go under your sleeping bag and provide insulation from the ground to keep you warm when sleeping outdoors. A 4-season, well-insulating mat is your best bet for winter adventures. Check out our range of sleeping mats.
Sleeping bag features can add comfort and convenience to your sleep experience — For example, sleeping mat attachments to prevent you rolling off your mat during the night, internal draft tubes to help keep warm air from escaping, stash pockets for your phone or smaller items, side zips for ventilation, a "Wear & Walk" feature so you can stay warm and cosy while walking around (e.g. in a hut) and the ability to zip sleeping bags together to create a large blanket or quilt.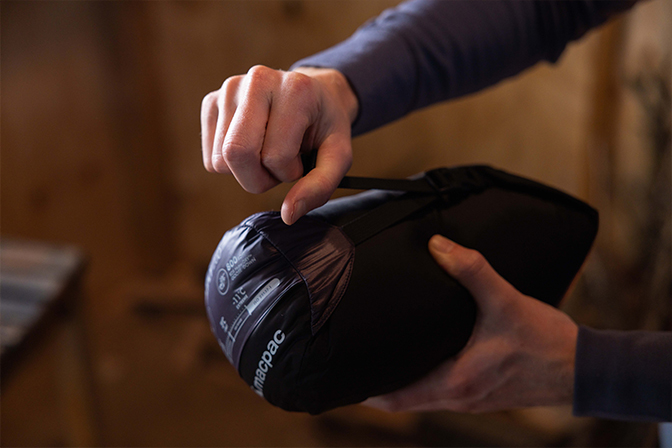 We hope that provides a comprehensive overview of how to choose a sleeping bag. Macpac sleeping bags have been loved by generations of trampers and trusted on everything from the toughest alpine expeditions, to everyday family camping trips. For Summer 21/22, we have refreshed our sleeping bag range, to introduce better fabrics, fill, and to consolidate details like shape and fit. We've also filled a few gaps to cater to a broader spectrum of users.
Today the range feels stronger than ever. And our goal is to help you find the perfect bag for you. If you're ever in doubt, make sure to head into our store and chat to one of our product experts.