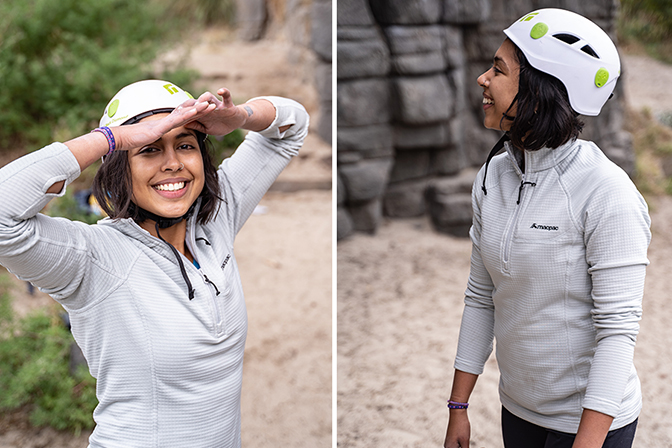 The Ion put to the test during a climbing trip to Long Beach, Dunedin
Until recently, I had a gaping hole in my arsenal of outdoor gear: a trusty mid-layer. For a long time, this oversight had been patched up by less-than-ideal hoodies, or by borrowing my partner's jumpers. But three months ago, I purchased the Macpac Ion Polartec® Fleece, and it's quickly become my go-to layer for every adventure.
Verdict in a nutshell
Full points for comfort during activity (love the stretchiness!)
Warm and toasty on the inside
Good for activities like climbing or light hiking (where you're not working up a sweat)
Not windproof or water-resistant (and doesn't claim to be) so pair it with the appropriate outer shells
How do others rate it?
Nick Allen – climber, author and Macpac Ambassador – tests a lot of gear for us. And he really knows his stuff. This is what he says about the Ion:
"The first thing I noticed were the fit and fabric — they're perfect. While climbing with it on, I was hardly aware of the garment, apart from feeling delightfully warm. And it looks sharp."
-Nick Allen
Fit and Features
It's worth noting that the Ion comes in a couple of different styles: a half zip pullover (men's and women's) and a full zip hooded jacket (men's only). I'm only reviewing the former here.
I was pleasantly surprised by the stretch and warmth of the Ion. The fit is snug and flattering (yup I still think that's important for outdoor gear!). Plus, it's easy to slip under a harness, and doesn't ride up during activity (tested during climbing, hiking and light biking). I'm a size 8 and can comfortably fit a t-shirt or long-sleeve top underneath (something light like the Long Sleeve Eyre) – but if you want the option of being able to fit more layers, I'd recommend sizing up.
Little details matter too; the thumb-loops are a nice feature, making it easy to slip on a jacket or additional jumper without worrying about the Ion's sleeves riding up.
Note, there is a vertical zip pocket on the left, just above the logo. I haven't yet found a use for this breast pocket yet, but I suppose it could be handy to slip a credit card in if you really wanted to travel light.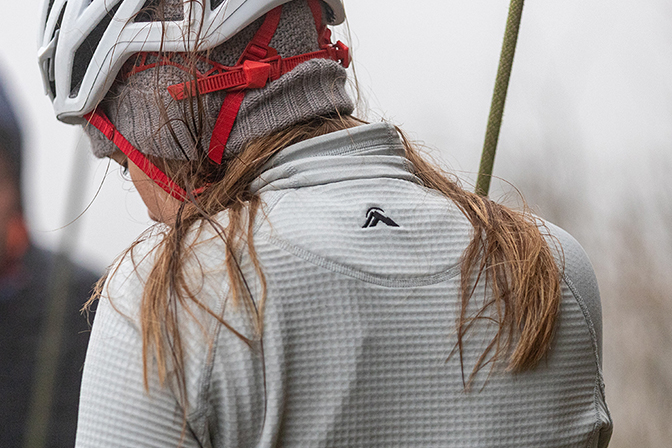 Grid pattern detail | Photo: Nick Allen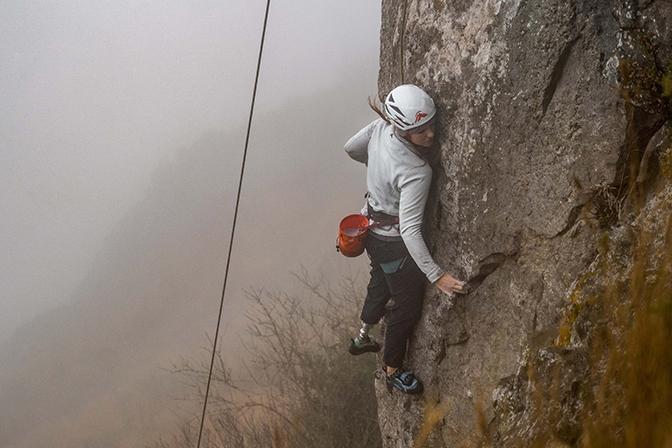 Rachel Māia climbing through rain and wind in the Ion | Photo: Break the Resistance
Fabric
Maximising fabric performance and warmth, the Ion range is made from Polartec® Power Grid™ fabric with 60% recycled content. Polartec®'s patented grid construction knit strengthens performance efficiency by increasing warmth and breathability, while also reducing fabric mass.
The grid structure also aids moisture management, by wicking away excess moisture, dispersing it and allowing it to evaporate into the air easily.
The fabric is treated with Polygiene® odour control treatment which means you can wear it for prolonged periods of time without it stinking up the place. Needing to wash it less frequently means it's better for the environment too – win!
When you do need to wash it though, the Ion is pretty easy to clean. I've put it through some trying conditions… and all the muck and grime has come out effortlessly.
Another bonus is the fact that the material is wrinkle-free and relatively abrasion resistant. I'm sure you're as guilty as I am of being a little too precious with outdoor gear. Luckily there's no need to worry here, the Ion can handle a bit of rough going in the bush or on the rock.
The only downside is the collar tends to get dirty quickly (especially in the High Rise (white) colour I have). If you don't want to do a whole wash, it's worth regularly soaking the collar in warm water, gently washing it and then air-drying.
Layering
The Ion is a versatile mid-layer – but it's not windproof or water-resistant (and never claims to be). For additional warmth, wear a baselayer underneath and pair it with a wind or waterproof outer shell when you're adventuring in exposed conditions.
What to pair the Ion with
A trusty bottom like the There and Back tights or Ria pants (more climbing options dropping this Summer!) plus a long sleeve top like the Eyre – great for sun protection when out hiking or climbing.