A Few Lessons in Alpine Climbing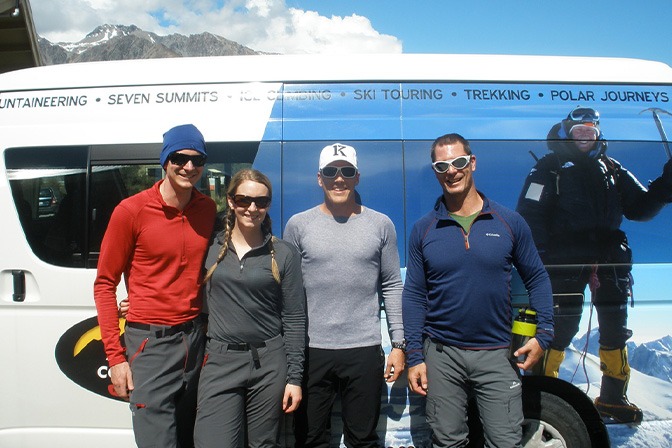 The team ready to head to the helicopter
While most couples celebrate their anniversaries with holidays in more favourable climates, Macpac's Rachael Grooby and her husband headed for the cold. Keen outdoors enthusiasts, an Alpine Climbing Course in the Aoraki Mt Cook National Park sounded right up their alley – and the perfect opportunity to take their adventures to the next level, transitioning from alpine tramping to mountaineering.
Rachael shared their experience with the Macpac Blog.
There comes a time in every relationship when one needs to make compromises for the person they love. I suggested going to Raratonga for our 5th wedding anniversary, my husband wanted to spend ten days in an alpine hut learning to build snow anchors and rescue each other out of crevasses. Needless to say it wasn't long before we had booked an Alpine Climbing Course through Adventure Consultants in Wanaka. The aim was to learn the skills necessary to move from alpine tramping to actual mountaineering and alpine climbing, allowing us to climb higher and more technical peaks around the country. We were also pretty keen on the helicopter flights over the Southern Alps!
After raiding the product department at work and pulling together some last minute second hand gear we finally loaded up the Subaru and prayed it would make it all the way down south. Our first morning started at the Adventure Consultants headquarters (you may have heard of these guys in the recent movie "Everest") where we met our fearless leader Mark Austin and the other two members of our group, Matt and Greg. The weather wasn't looking favourable for the next 48 hours so we spent the morning signing waivers and culling our gear to the absolute essentials. I realised pretty quickly that this was going to be a one pair of undies per four days sort of trip.
After heading out to the local crag to go over rock climbing in mountaineering boots and rappelling, we enjoyed one last beer in town before the real adventure began. Day two saw us pile into the trusty AC van for a drive up to beautiful Mt Cook Village and the New Zealand Alpine Club's Unwin Lodge. The weather had us changing plans backwards and forwards as we waited for the airport to call us with a chance to get up the glacier. This gave us time to learn more rope skills on the front deck of the lodge and hanging from the ceiling in the communal kitchen – prussicking out of a crevasse isn't too bad when there's a cup of tea and biscuits waiting for you when you finish. We ended up having to spend the night as the weather refused to clear by evening.
This gave us a chance to check out the Hermitage and Museum in the village the following morning. I was feeling pretty grateful for crampons and my full Macpac kit when I saw photos of the first mountaineers to attempt summits in the park. We also spent some time on a concrete block climbing wall learning to use cams, nuts and slings to make equalized anchors. Thankfully we finally got the call around 3.30pm that we had a window to fly. With our packs all ready to go in the van we loaded up and tore off across the road to the airport and our transport for the day. The flight in was stunning as we helicoptered straight up the Tasman Glacier and past Mt Cook to our accommodation for the next five days, Kelman Hut. Sitting atop a rocky ridge at 2460m this is a DOC Hut with a serious view.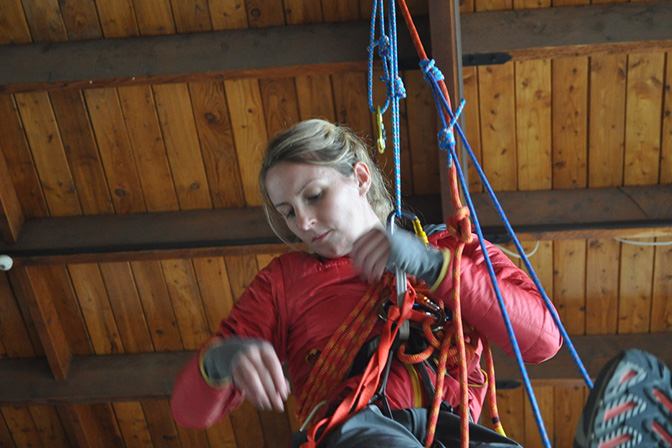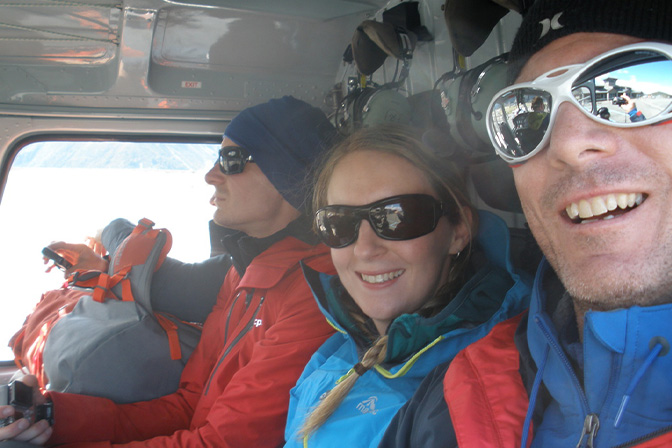 Before we could make the trek up to the hut we had to learn how to use our avalanche transceivers and practice roping up for glacier travel. When Mark was happy we could dig each other out of a couple of metres of snow, we stuffed as many of the food bags as possible into our packs and trudged up to the hut for a late dinner. Our first piece of technical terrain was encountered at the hut where snow had piled up so high we had to climb down to the front door. Kelman is a well stocked, 22 bunk shed with a well appointed kitchen and most importantly, reception for sport radio. We were sharing the place with four american ski tour guides who split their time between skiing off Mt Cook and trying to make meals out of condiments they had found left in the hut.
Day four was straight out into the white stuff and learning how to self arrest when falling head first on your back down a snow slope. I fear I was more gifted at the falling than the self-arresting but I didn't impale myself on my ice axe so I saw it as a win. We then trekked across the glacier towards Tasman Saddle Hut where our guide made us walk off the edge of a cliff to test our newly found crevasse rescue techniques. I was reasonably thankful we were also in a total white out and I couldn't see how high I was for the 20 minutes it took my husband to build an anchor and pull me back up to safety.
Day Five was our first real climb and an opportunity to put together everything we had learnt so far. Mt Aylmer sits at 2699 metres on the opposite side of the glacier from Kelman and took three really straight forward pitches to summit. We used a running belay to wander down the west ridge and then slogged through soft snow all the way back to the hut. The weather came to the party the next day again for our last climb which was the most challenging and fun of the trip. We started out down the glacier to a slope we had practiced crampon techniques on a few days earlier and began the first of eight pitches up to the ridge line. Having to climb up, build an anchor and then belay was pretty physical and I was definitely feeling it by the time we had stopped for lunch. We set off again on a running belay with Mark just gallivanting un-roped across the ridge line. All was going swimmingly until I hit a boulder twice the height of me that I had to shimmy down on my stomach. The team came through though and Greg talked me down from the ledge without any disasters. I should have known that this wasn't the hardest thing I was going to do all day and when we ran out of mountain 120m above the snow slope to the hut, I may have had a moment or three.
Mark had all five of us cram onto a ledge the size of a rubbish bin lid and attach our belay devices to the rope. The first rappel wasn't too bad as it was broken up by a small shelf about half way down. The second however was just a straight vertical drop down bare rock to scratch up with your crampons. It felt pretty damn good to get to the bottom and even better to end up with a three minute walk back to the hut. Dinner was late and it was an early 5am start to listen to the All Blacks thrash the Wallabies the following morning – well worth getting up for. We walked out down the length of the Tasman Glacier over dozens if crevasses and with heavy packs to our helicopter rendezvous point. There was just enough time for a lesson in using ice screws before we were being whisked back down the valley to Mt Cook Village again.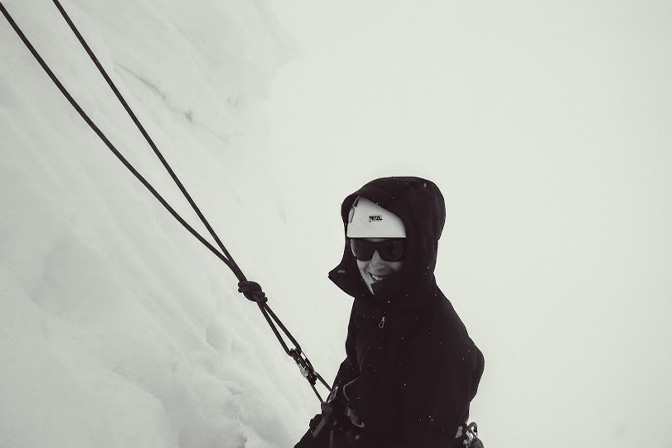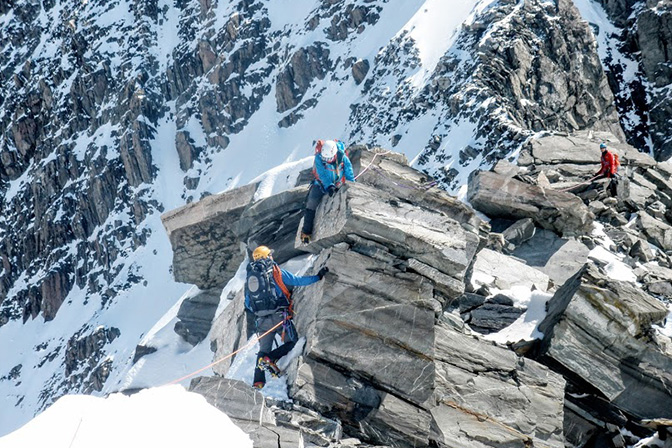 Wanaka we hit the showers hard and demolished a few burgers at Red Star. There was one more climb on the cards which saw us heading south to Queenstown and the Remarkables. Unfortunately all five of us managed to forget the food box so it was a hungry climb up to Single Cone in high winds. After picking our way through the deserted ski field it was an easy climb up to a couloir below the summit ridge. We pitched this and popped out on the top where a snow cave had been elaborately fashioned out of the mountain, seats and all. The last two days covered avalanche awareness, weather and lead climbing to wrap up the course.
We were really impressed with Adventure Consultants right from our initial inquiries right through to the instruction we received on the course. I would highly recommend them for guided trips or climbing courses in the Southern Alps and definitely felt like we got value for our money.
Breakdown:
$3450 each for 10 days
2 Helicopter rides
3 peaks climbed
5 days in an alpine hut
1 Rugby World Cup back to back victor
You can read more about Rachael's adventures on her blog Airway Spies.