Pack Sizing Guide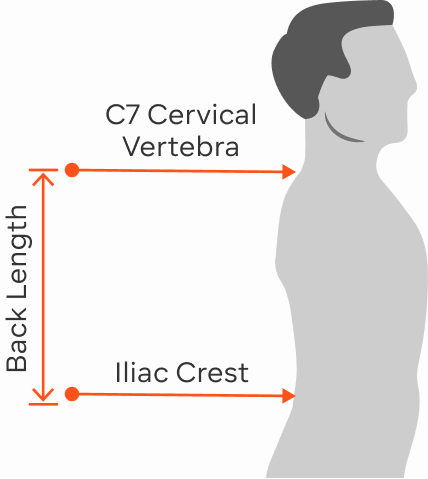 Find your Macpac Size
1. Locating your C7 cervical vertebra, it's the highest vertebra you can feel protruding near the base of neck, This point is usually a bit higher than your shoulders.

2. Find your iliac crest. It's the highest point on the top of your hip bone.

3. Measure vertically in centimetres(cm) from your C7 to the highest side point of your iliac crest to find your Macpac back length.


Standard/Unisex

Size
Back Length
S1

39 - 46cm
S2
43 - 53cm
S3
50 - 60cm
Women's Specific

Size
Back Length
W1

37 - 44cm
W2
42 - 49cm
Women's Specific Packs
These packs have been designed with women's physiologies in mind.
Shoulder straps curve differently, and sit closer together, to increase comfort across a range of chest sizes without slipping off narrower shoulders. Hip belts also flare differently to fit curved hipbones and a variety of waists.
Between Sizes?
If your measurements are in between what's listed in the size chart, pick the next larger size.
Doesn't Fit?
Return it within 60 days, as long as it's unworn, unwashed and unaltered.
See Returns Policy
Still unsure?
Find your nearest store and head in for a free fitting.
Read also: How To Fit Your Backpack