2023 Ice & Mixed Festival
Macpac has sponsored the Remarkables Ice & Mix Festival since 2012. 11 years of climbs, sends, and summits. Alpinists, backcountry skiers and general rock-lovers from around Aotearoa/New Zealand (and some from further afield) gather to celebrate everything climbing. The three-day festival is held in adventure paradise, Tāhuna/Queenstown.
Each year, some of the Macpac team head down to Tāhuna to support the festival while participating in some general tomfoolery. The team rub shoulders with some climbing legends, hopefully, climb something, and report back – making observations and seeing Macpac gear out in the field. The epic clinic we were able to experience was the Chicks 'n' Picks course, which was full of a bunch of inspirational wāhine making strides in the outdoor space. Here is a little overview of the festival, plus some tips & tricks learnt along the way.
So… What is Ice and Mixed Climbing?
Ice Climbing. Looks cool, sounds terrifying. It's essentially using the energy not spent on the approach to bash something sharp into ice. If that isn't enough, you must rely on the 40mm total surface area in the ice to hold your whole body weight. That might be laying on the dramatics; it was surprisingly sound but certainly took some getting used to.
Mixed Climbing. So, you quickly learn that, in hindsight, ice is pretty secure for the most part. What a luxury to pick any surface to hit with your axe. Mixed is essentially finding the most minor hairline fracture in a rock to stick your axe into and then very insecurely scrabbling to find a ledge more than 2mm wide to balance the tip of your crampon. Sigh. This makes you miss sport climbing.
These climbs are an epic activity and essential in any alpinist's repertoire. As we know, in Aotearoa, the terrain is highly varied, so these skills are vital to ascend various routes safely. Fortunately, it's also super fun.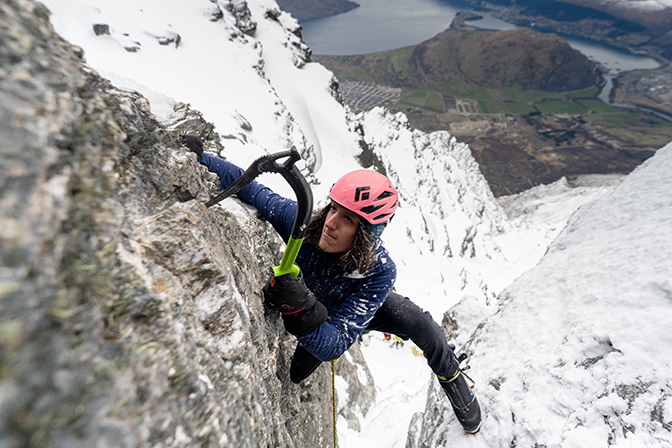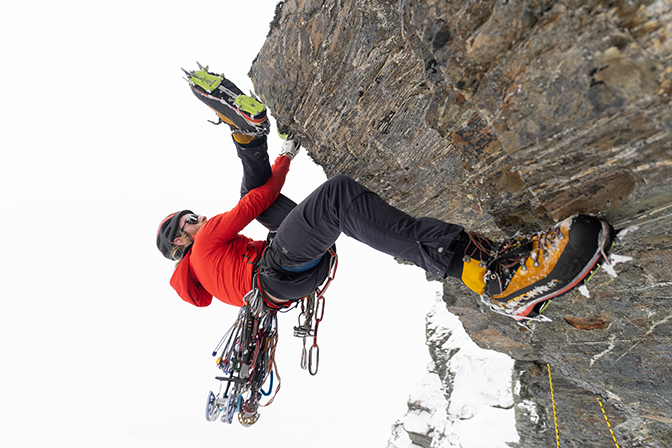 The Festival
Day one. The festival kicked off in the evening. You could hear them before you could see them. It was a cacophony of laughs, stories of recent epics, and dramatised tales of past festival antics. We got the initial safety overview of the risks expected over the weekend, including avalanche danger and a detailed snowpack report to aid decision-making. We met with our clinics and set the plan for the next day.
Day two. We met at the Remarkables base at a sleepy time of 6.30 a.m. and convoyed up the (immaculately maintained road) to the skifield. An undesirable, persistent-weak snowpack meant our short (ish) approach turned into a 2.5-hour, one-way snow slog. With some epic slabs accompanying us and sunshine sneaking in, it was overall a scenic walk. The day was spent asking whether it hurts the ice to smash pointy things into it (spoiler, it doesn't) and understanding the wonder of snow screws. The awesome wāhine all powered up some frozen waterfalls and looked hard-core doing it. After climbing all the ice we could manage, we set off to repeat the morning's approach and head back to base. Shenanigans were happening that evening (who is surprised?), but after a day spent battling gravity, many tired souls retired to their beds.
Day three. More Powerades/electrolytes were spotted this morning at base – yawns and stretching were also popular. The day began with someone saying, "I've never met a mixed climb that hasn't made me cry". So, with that in mind, we began our ascent, the majority of which was on-piste and much easier going than the previous day. We made it to the wall in a reasonable time and dug out a good-sized ledge to relax on. Relax is probably a subjective term; eating Sour Patch Kids while being snowed on might not be everyone's idea of relaxation. We spent the day balancing on the tips of our crampons on non-existent ridges and attempting to find places to bury our axes. Climbs were conquered, and spirits were high. That evening saw the Macpac Alpinist of the Year award presented, as well as the winners of the ice axe hang comp selected. The comradery was evident as stories were shared over pizza and drinks. This was the final day of planned activities. Sunday was left open to arrange something with others if desired.
The Layering System for This Type of Adventure
A day climbing in an alpine environment goes something like this. Freezing, cold, hot, extra hot, sweltering, cold again, can't feel my fingers, warm.
The sweaty approach, the chilly climb, and then the semi-warm descent – you just can't win. The solution is layers and intentional packing. Striking a balance between staying warm and not turning your clothes into a sweaty, freeze-susceptible mess is super important.
The layers in the pictured outfit are:
Baselayers – Merino Singlet, Limitless T-Shirt, Prothermal Hooded Fleece Top, Prothermal Fleece Long Johns
Midlayers – Nitro Fleece Pullover, Pulsar Insulated Jacket
Outer layers – Prophet Air Rain Jacket, Fitzroy Softshell Pants
Accessories – Merino Neck Gaiter, Tawa Merino Beanie, Ski Gloves, Merino Winter Hiking Socks
Between climbs, some investigative journalism was being done. Which, in reality, was asking what other climbers were wearing in return for a Sour Patch Kid. The most popular items on other climbers were the Arrowsmith Down Jacket, Icefall Down Jacket, Fitzroy Pants and, unsurprisingly, the Nitro Fleece Pullover (there were too many to count).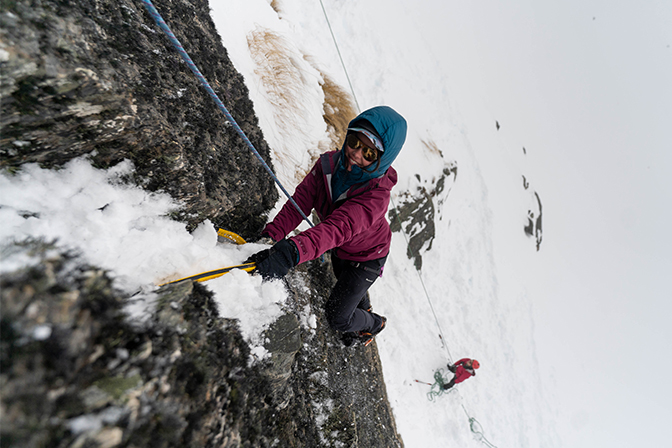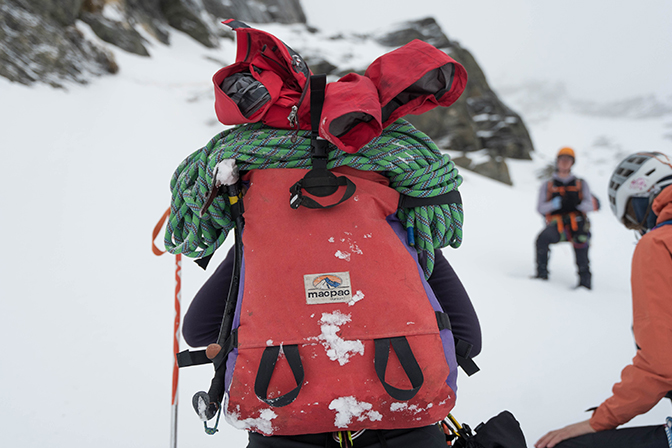 Packing for Alpine Climbing
Firstly, the new Pursuit 40L was put to the test and lived to tell the tale. It survived a Sour Patch Kid explosion and kept all goodies dry while it sat in the snow all day. Secondly, the below gear was perfect for this type of adventure. I won't go into the technical equipment, as that varies per trip, so here's just the usual items.
A festival full of rock fanatics is always bound to be a hoot. It's easy to forget you're on an instruction course when it feels like you're hanging out with a group of friends. The instructors were patient, extremely knowledgeable, and legendary. We learnt new skills while also being empowered to get going and push boundaries. So here are some final thoughts to wrap up the weekend.
Everyone is as cool and as hardcore as they seem online.
Wearing a jacket that is helmet-compatible is a game-changer.
Packability is key; gear that is lightweight and packs down small is excellent. The Macpac Icefall Down Jacket and Pulsar Insulated Jacket pack into their pockets, and the light fabric of the Nitro gives you a perfect layering system (without taking up most of your pack).
Whether you're a beginner or an extreme mountain lover who eats snow for breakfast, this is the perfect situation for climbers to meet.